Tracks in Time Exhibition: Exploring space, place and identity
This exhibition will showcase artwork as a celebration of the creativity and innovative practices in Tower Hamlets schools.
As part of the exhibition, there will be a series of workshops for Tower Hamlets booked schools to encourage and develop creative thinking and arts practice through painting, collage, textiles and digital media for current students.
THAT Network London partners, UAL Central Saints Martins; 'A' Team Arts Education; Bow Arts; Whitechapel Gallery; Bow Arts; Auto Italia; London Metropolitan University of Art, Architecture and Design; Raven Row and the Prince's Trust will be delivering the workshops.
All partners will have a presence at the exhibition and will be sharing what they do at the preview night along with the Chisenhale Gallery and Peer.
Alongside this, they will offer visitors the opportunity to capture thoughts during the exhibition as part of a collaborative art piece.
The Art Pavilion exhibition will run from Tuesday, 28th February – Friday, 10th March, opening times 11 am-6 pm on most days apart from 11am-2 pm on Friday, 10th March.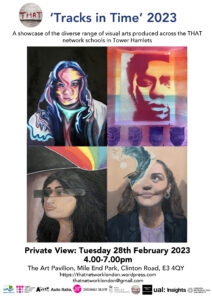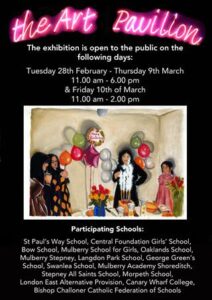 Venue – The Art Pavilion
Address – Mile End Park, Clinton Road, E3 4QY