Learn to Teach at Stepney All Saints
What is School Direct?
An innovative training route into teaching managed by the National College of Teaching and Leadership.
Stepney All Saints as a Lead School recruits, selects and trains its own prospective teachers along with other schools within its partnership in Newham, Hackney, Camden, Islington, Lambeth and Essex, working with top Higher Education providers, University of East London and the Institute of Education Trainees will have the opportunity to develop their knowledge and skills in high quality placements with experienced and talented mentors. Many trainees are then recruited as NQTs at these schools.
Routes We Offer
Salaried
Trainees receive a salary and training grant, dependent on degree subject and classification as well as an enhancement for training at a school with a large percentage of free school meals.
Candidates need to have had between one and 3 years paid employment depending on the nature of degree and experience.
The salaried route leads to the QTS award, but can also include an additional PGCE qualification for interested applicants.
Training
Trainees pay tuition fees, but bursaries of up to £29,000 are available for some subjects and trainees can take out a loan through Student Finance Check with Teaching Agency
Partnership London SCITT
We are also part of the Partnership London SCITT, a training alliance of top quality schools across East London and Essex which offer exceptional initial teacher training and continuing support in partnership with the University of Sussex, using the Schools Direct model with PGCE qualifications. More information can be found on their website: http://partnershiplondonscitt.com/
Assessment Route Only
For experienced unqualified overseas trained graduate teachers.
Qualifications
Both schemes lead to QTS (Qualified Teacher Status) and can lead to the award of a PGCE (Post Graduate Certificate of Education), with Masters credits.
SKE – Subject Knowledge Enhancement Courses
These are available in many subjects, particularly for candidates who completed their degrees some years ago!
Why Train to Teach at Stepney All Saints?
Stepney All Saints as a Lead School in Tower Hamlets recruits, selects and trains its own prospective teachers, working with its partner schools, Sarah Bonnell and St. Angela's in Newham, Parliament Hill in Islington, Stoke Newington in Hackney, Lambeth Academy in Lambeth, St Paul's Way in Tower Hamlets, Maria Fidelis in Camden, Highams Park in Waltham Forest and Davenant Foundation School in Essex and more recently Marion Richardson Primary School.  We have long standing and highly successful partnerships with the University of East London, Institute of Education, University College London and Goldsmiths College.
Trainees will have the opportunity to develop their knowledge and skills in high quality placements with experienced and talented mentors
Proven Success of Teacher Education at Stepney All Saints
We have had many years of successfully training teachers to gain QTS through the former Graduate Teacher Programme and PGCE placements, overseas teacher training and assessment only route training.  Over 50 of our current teaching staff gained QTS with us, and are still with us, many in senior positions. 80 current teachers also completed their Induction year as Newly Qualified Teachers and are likewise still with us, again with many in senior positions including Deputy Head. We have many well qualified and experienced subject mentors (often former trainees) and the school is committed to training and 'growing our own staff'.
What will training at Stepney All Saints be like?
You will spend one day a week at University, developing your subject knowledge along with other trainees, but most of the time you will be developing your skills and knowledge at Stepney All Saints.
2 hours of Professional Studies training a week, led by our experienced Senior School Professional Tutor and 3 Assistant Professional Tutors, and specialist staff such as our Literacy, EAL, SEN and G&T co-ordinators covering topics such as lesson planning, marking and assessment, pastoral issues, classroom management and different teaching and learning strategies.
Weekly meeting with an experienced subject mentor focusing on developing your subject knowledge and skills.
Working alongside experienced teachers, observing lessons, discussing approaches and participating through supporting students, teaching starters or plenaries and then taking responsibility for whole lessons building up your timetable, teaching across the full 11-19 age and ability range during the course of the year. (30% timetable in term 1, 50% term 2, 80% term 3).
Lesson observations and feedback on how to improve, from mentors and other experienced colleagues.
Guidance on building up a Portfolio of Evidence to support the Teachers' Standards.
Development of knowledge, skills and understanding to become a reflective practitioner.
Full involvement in the life of the department and school, attachment to a Tutor Group and opportunities to participate in extra-curricular activities.
4 week placement 2 at the partner school.
QTS qualification at the end of the year PGCE qualification for training places and possibly of PGCE qualification with credits towards a Masters qualification for suitably qualified salaried trainees (self-funded).
What sort of School is Stepney All Saints?
We are a Church of England School with a strong religious ethos, but also a neighbourhood school with a multi-faith intake.
We are a Specialist Language and Business Enterprise College and are rated 'Outstanding' by Ofsted.  We are in the top 1% of highest achieving school in the country with excellent examination results at GCSE and A Level.
We have a Sixth Form College of over 600 students where the majority of Year 13 students progress to University, including Oxbridge.
We are the heart of the vibrant East End of London with excellent train, tube and bus links, and many varied social, cultural, retail and gastronomic facilities.
We have excellent facilities, including swimming pool, fitness gym, drama studio theatre, recording studio and the latest technology throughout the school and are committed to staff well-being.
Our partner schools are equally successful schools, and provide contrasting school experience.
Ofsted graded the school as outstanding in the most recent inspection, highlighting the "very effective help and guidance given to staff new to the profession."
What did Ofsted say about the Initial Teacher Education Partnership between the University of East London and East London Schools?
The experience of University tutors in helping develop trainees' subject knowledge.
The quality of mentors supporting trainees in schools.
The rigorous selection arrangements which ensure high quality entrants to the profession.
Trainees who want to listen, learn and continually improve their practice and become highly reflective NQTs who often then go on to become subject mentors themselves.
What do staff from UEL (our partnership university) say?
"I have worked with the Modern languages department since 2007. They have provided excellent training and support for my Modern Languages trainees throughout this time. The ML staff consistently model good practice for trainees in their language lessons. The quality of ML mentoring is excellent as is the support and CPD training programme from the PCM"
Erica Cattle, Senior Lecturer of ML UEL
"Stepney All Saints provides outstanding support for the professional learning and development of trainee teachers. They are a proven training ground of good practice, team-working, highly effective mentoring and clear partnership working with the university. They provide specialist mentoring support, and through a dedicated team of tutors and observers are highly effective in the impact they have on trainees teachers' development and progress. A wide range of structures and learning opportunities support this. This partnership with the university creates informed, reflective, open and informed professional learning."
 Warren Kidd PFHEA, UEL Teaching Fellow

"Trainees on the Secondary D and T PGCE programme are supported fully by a team of dedicated and hardworking teachers ,who offer strong support and guidance as well as encouraging the individual subject strengths of the trainees to develop. Trainees always enjoy the experience within the D and T department which has an number of ex UEL trainees working within it."
Kate Hufton FHEA, Senior Lecturer D and T, UEL
"Every so often one gets an opportunity to stop and think about a particular moment and how special that moment was.  Very recently I was stopped by one of my ex-trainee teachers when rushing home to work who then went on to thank me for the work done in preparing her to become a teacher.  This led to me thinking about my past trainees and what an exceptional school Stepney All Saints is.   Over the years, I have had the pleasure of working with Jane Barnes at her wonderful school, Stepney All Saints – with a particular focus on humanities/social science teaching. I want to thank the school for providing an exceptional pathway of training (and education) for these future teachers (many of whom I am still in touch with today – as they have moved from novice to experienced practitioner). Stepney All Saints is a magical environment in which to blossom as a teacher and it has been a real joy to work with Jane.  Thank you to Stepney All Saints School and to Jane for providing an inspirational environment – and for the incredibly supportive work you do for the teaching profession."
Dr Gerry Czerniawski PFHEA, UEL
What are we looking for in our Trainees?
Graduates with a 'good' honours degree, 2:1 or above who have also obtained Grade 'C' or above in English and Mathematics and the ability to pass the literacy and numeracy skills tests.
One to three years paid work experience for salaried places, depending on subject and nature of paid experience.
Enthusiasm, resilience, interpersonal skills, capacity for hard work and willingness to listen, learn reflect and work professionally with other colleagues.
Some relevant school based experience to be gained before starting the course in September.
What do our Trainees Say?
What do most recent trainees think about their training at Stepney All Saints?
"Working in the heart of Tower Hamlets, I have identified a common struggle in children of ethnic minority backgrounds in comprehending certain areas in the subject of English. My experiences at Stepney All Saints have enabled me to feel immensely involved in children's learning and I feel that I have truly possessed a thorough understanding of the local, close-knit community and the school's cohesive culture. Reflecting on my own educational experiences, as a sixth-form student, a trainee teacher and now at present, completing my NQT here, I have massively appreciated the immeasurable impact that teachers have and are making on the lives of students. The school's ethos resonates with some of my own values of embracing diversity and inclusivity and I am really relishing promoting this throughout everyday practices in school. Not only have I been able to explore my subject in a lot of depth but have secured good relationships with staff across the school, something that has been a prominent part of my journey. I have had the opportunity to closely work alongside a range of fellow professionals and solidify my understanding in certain areas, ranging from SEN, pastoral care and development planning. I feel that the School Direct route has provided me with an immediate and inclusive approach to teaching, whereby I have been able to perform wider professional duties that I initially did not anticipate and I would definitely recommend this to others who want to play an integral part of shaping students' lives."
Naseha Yasmin, English NQT
"My teacher training experience at Stepney's All Saints was phenomenal. Despite the PGCE year being the most strenuous year, having Jane Barnes and the members of staff alongside every step of the way has made the journey so much easier. Working at an outstanding school like Stepney All Saints has really displayed its profound ethos and has taught me the true importance of being a teacher. I am forever grateful for the training and fortunate enough to be under the wings of no other than Jane herself."
Mohammed Azmul, Physics Trainee
"Training to be a teacher was initially a dream of mine, and Stepney All Saints made it a reality. The staff and the Professional Coordinating Mentors there made a challenging course very enjoyable. With very supportive staff and mentors, and enthusiastic students, training at Stepney All Saints was a pleasure. Mentors made themselves very accessible and approachable, helping you at every moment along the way. If you want to be an outstanding teacher, and want to have fun whilst doing it, then Stepney All Saints is the place to be!"
Jamal Momin, Science NQT
"Having heard so much about the teacher training programme at Stepney All Saints School from previous NQTs, I decided to find out for myself and found my experience as pleasant as I was told. I was well supported by my mentors, professional tutors and teachers in my department during my training, and was able to meet submission deadlines and fit my training into my life. I had a my second placement at a PRU. This was an invaluable experience for me. I had the opportunity to teach alongside, and observe very experiences teachers operate in an entirely different setting from what I had ever experienced.
Above all, my training with Stepney All Saints School, gave me the change to do something I always wanted to do, teach mathematics. I am currently in the first term of my NQT induction year at an Academy.
Ebun Hammond, Maths Trainee
"I really enjoyed my time at Stepney All Saints, I completed a schools direct salaried route in Mathematics. I was thoroughly supported throughout the entire programme by my department, professional mentors and most importantly Jane Barnes, who we all know to be the heart and soul of this training school. I loved studying at the university one day a week and spending the rest of the week getting to grips with planning, teaching and admin.
I have learned so much during the course of the year and it will be something I will always look back at. It was tough, however nothing worth having comes easy. "
Suhera Xamsa, Maths NQT
"The schools direct route offered at Stepney All Saints is a programme dedicated to supporting the development of new trainees. The amount of support I have received from our senior professional tutor, professional tutor, subject mentor as well as guest speakers was phenomenal. Without their guidance it would have been very difficult for me to settle into this environment as I had never taught before. "
Okan Hoplar, Computing NQT
"Stepney All Saints's prestigious course attracted me to apply. The school and staff were accommodating and approachable, which was very encouraging.
Training, including the partnership with UEL has been a great experience overall. The passion and support provided by Stepney All Saints staff has been motivating and has helped my development. The flexibility show to put my professional development first has aided my growth and I have had many excellent experience across a spectrum of teaching. Staff at SAS aid you to learn from inevitable mistake and are always forthcoming with ideas and techniques to help. School's Direct is definitely like being 'thrown in the deep end' but at Stepney All Saints there are plenty of flotation devices around you to grab on to.
Leo West, RE Trainee
"Before I began my Initial Teacher Training, I worked for a City recruitment firm. Although I enjoyed aspects of the job, I found it repetitive and did not get the sense that my job served an important social purpose. I decided to look for a new challenge in a fulfilling career where I felt I was making a real difference to the lives of others.
After reflecting on the impact my favourite teachers had had on me and my development, I decided to pursue a career in education where I knew no two days would be the same! I wanted to emulate the positive impressions I had of my time at school while also working to address educational inequalities. I also enjoyed working with young people and wished to challenge myself in demanding yet rewarding job.
When applying for training programmes, Stepney All Saints immediately stood out as a fantastic place to train; this impression was only strengthened when I visited the school to observe lessons and take part in an Initial Teacher Training session. The staff were welcoming and generous with their time from day one. I was also attracted to working in an Outstanding school with very high standards and an established and well regarded training programme. The fact that Stepney All Saints offered the School Direct (Salaried) route into teaching was another crucial factor in choosing to train here – this meant I could focus on training and improving my practice despite other financial commitments in my life. The School Direct route also navigates the best balance between practical and university based learning. As someone changing careers, I knew that I wanted to work in an environment sensitive to the difficulties a career change can entail. Throughout the application and interview process at Stepney All Saints I felt I was treated as a professional rather than a prospective trainee, an ethos I have come to find permeates all aspects of teacher training at this school.
I have benefited immensely by training at Stepney All Saints. The training programme is fantastically well organised and I had the opportunity to teach a limited timetable from day one whilst being given the guidance and support to ensure could be successful. There is a great network of support from fellow trainees and the school's training coordinators and mentors who are committed to your development and improvement. I believe that the course at Stepney All Saints strikes the right balance between personal autonomy and professional oversight to ensure all trainees can progress. Perhaps the best advert for training here is the high number of former trainees who stay on to teach here after their placement has finished. I would highly recommend training to teach at Stepney All Saints School – it is certainly one of the best decisions I have ever made."
Tom Currish, English Trainee
"I worked as a cover supervisor and an EAL teacher for two and a half years before beginning my course. I chose SAS because of the school's track record in providing outstanding training and nurturing trainees' potential. I remember arriving for my first visit to the school and being amazed by the quality of teaching, the enthusiasm of the pupils and the friendly staff. I could have not asked for a more supportive, diverse and rewarding training year. I would recommend anyone considering training in London to think about SAS – the pedagogical and mentoring support has been fantastic and you have the opportunity to observe teachers with varied styles and experiences."
Arran, School Direct History Trainee 2018-19
I first started working at Stepney All Saints as Jane Barnes' administrator some years ago. Very quickly I realised I didn't want to be in the office – I wanted to be in the classroom making a real difference to students. When I was finally in a position to start my training, I didn't consider anywhere other than Stepney All Saints to fulfil my dream of becoming a teacher.
There are many things that set Stepney All Saints apart from all other training providers – Jane's unwavering belief in you as an individual, the quality of support and feedback from subject mentors who are so giving with their time, and the dedicated Weekly Professional Studies sessions – to name but a few.
At university, when comparing experiences with fellow trainees (who are based at different schools and on different training routes), it became apparent very quickly that the support and guidance available at Stepney All Saints, together with the strong, well-established training programme, is second to none. As such, the Stepney All Saints trainees were quite often the envy of the group!
Stepney All Saints is unique in having such a large cohort of trainees each year. There's a real sense of camaraderie and friendship among fellow trainees, and this plays a really important role in helping you feel grounded in what can otherwise be a challenging year. At Stepney All Saints, you are not treated as 'just a trainee'… rather, you are seen as a valued and respected member of staff right from day one. I highly recommend choosing Stepney All Saints to do your teacher training.
Sulthana Begum, Maths Trainee
"I asked to finish my CITT in Stepney All Saints. The school is extremely friendly and supportive to trainees. The importance Stepney All Saints have places on my professional development is invaluable. The confidence I have gained from my mentor and department has really given me believe in myself.
Aaliya Deen, Physics Teacher
Before going in to teaching, I was an Environment Manager for an NGO. I was really unsure whether to choose the School Direct training route or the PGCE route, but once I visited Stepney All Saints and met Jane and the geography department my decision was clear. From just the visit, I could tell that it was a welcoming school and department that really valued the training of colleagues and were able to make you feel like you were part of the team, from the onset. I couldn't recommend Stepney All Saints enough, for the phenomenal support and training given to all the trainees. Within my school experience, I have always felt like I really valued member of staff, and felt as if my contribution to the department and the school were really valued. I think the greatest thing about the training, is that your based mainly in one school, and so you get to know what a being a teacher within an academic year is like, and you get to build a great base within the school and really strengthen the rapport made with students throughout the year.
Fatima El-Meeyuf, 2nd in-charge of Geography
I worked as an SEN teaching assistant after my History degree. I chose Stepney All Saints for my teacher training because of its reputation and dedicated training programme and team of Professional Tutors. I gained both theoretical and practical approaches to teaching.  The entire training experience is very supportive.
Bethany Price, 2nd in-charge of History
After my degree, taken at McMaster University in Canada, I worked as a teaching assistant and unqualified teacher in Islington, teaching Maths and Economics. Prior to this I worked as a manager in various London restaurants.
I chose Stepney All Saints because I wanted to do a school based training programme that was well established and would give the necessary support. I found I consistently had excellent support from my mentors and department. The professional studies sessions, with reading and homework, directly impacted on my progress as a trainee teacher and I received invaluable feedback after lesson observations.  I would strongly recommend ITT at Stepney All Saints because of the excellent support provided by Jane and her team.
Bradley Schumacher, Mathematics Teacher
Having spent a number of years as a teaching assistant, I soon realised that I wanted to be at the front of the classroom and not at the back. Approaching teaching through School Direct seemed the right way forward for me as I wanted to continue to learn by being in the classroom most of the time. Stepney All Saints offered me that opportunity and also gave me the support needed to ensure I can develop into a reflective practitioner. When I started this role I was extremely apprehensive and unsure whether I would be able to, but my university mentors encouraged me through every aspect and helped me to become the teacher I am today. To top it all off I was then offered a job at Stepney All Saints as an NQT!
Jubair Ahmed – Science NQT and Head of Physics
Before learning to teach at Stepney All Saints, I was and EFL teacher and examiner in Barcelona for six years. It was a logical transition to go into teaching and Stepney All Saints has made this a wholly successful one. Led by the highly experienced and inspirational Professional Tutor, the training at Stepney All Saints gives you everything you need to succeed in your training year.
Learning to teach has been enjoyable and relatively stress-free thanks to the supportive environment, lovely students and important sense of camaraderie amongst the trainees.
Although I would have gladly stayed at Stepney All Saints, the staffing situation meant this was not meant to be; I will be taking my newly developed expertise to Holloway School in Islington. I will always look back fondly on Stepney All Saints.
Martyn Cooper – English Trainee
I could not recommend Stepney All Saints teacher training more highly, more than matched my expectations! The format of the course is supportive with my professional studies session every week. In these sessions you can share best practice and be helped to master your teaching practice via reflection and discussions with peers at a similar stage of their careers. Within your departments you will have a specific subject mentor who can give you day to day guidance. Becoming a teacher isn't easy but is hugely rewarding. At Stepney All Saints they are with you every step of the way. I am very pleased to be continuing at Stepney All Saints next year.
Nicholas Casey – History Trainee
Cohort of 2014-15, NQTs of 2015-16


Thomas Glavina, Physics Teacher and Head of Year 8
"Previously an Operations Manager for a leading sports travel company, I worked on the supporter tours for the recent British Lions Rugby tour to Australia.
I had visited a number of schools made available to me through the UCAS application system and Stepney All Saints was by far the most professional and welcoming day that I experienced. Stepney All Saints School is an interesting and vibrant area of the city to work in (plus very close to Brick Lane for curry evenings!)
Stepney All Saints is a very focused academic school, where student's, parents and teachers are all motivated to succeed. I find the attention given to each students progression to be rewarding, as well as the clear sense of community that the school generates. From a training perspective, it has been very fulfilling to slip into an environment where outstanding quality teaching is happening all around you. It has been exhausting, but rewarding year.
I am delighted to say that I will be taking up a permanent position in the Physics department at Stepney All Saints. I aim to go as far as I can through the school management, the variety of options is one of the great things about a teaching career.
The main thing about Stepney All Saints is how much respect is given to the Schools Direct/ PGCE trainees and how much support they are afforded by all colleagues. There is a universal 'buy-in' from all staff to the principles of school-based training, as so many of the teachers here are ex trainees from this school. Being part of a community of trainees means that there is always a multitute of people in the same boat as you, experiencing the same highs, the same lows and always able to lend an ear for advice."

Rimina Yasmin, Psychology Teacher
"Training as a Psychology Teacher at Stepney All Saints has been an invaluable experience. I have been able to develop my skills as a teacher whilst learning on the job. The support and encouragement I have received from the Social Sciences Department, the School Professional Tutors and my University Mentor have been excellent, I have now completed my NQT year at this fantastic school.
I would, without doubt, recommend Stepney All Saints to anybody looking to train to be an outstanding teacher."
Mazada Begum, Geography Teacher and Head of Year
"I have just completed my NQT year as a  Geography teacher at Stepney All Saints, and my previous positions were as an Academic Tutor and then Trainee Teacher at SAS.
After graduating from King's College London, I decided I wanted to gain some experience in working in a school before deciding to do my teacher training. I was lucky to get a job as a Geography Academic Tutor at Stepney All Saints, and did this for two years before getting onto the School's Direct training course. This job confirmed that I wanted to pursue a career in teaching. I knew I wanted to do my training at Stepney All Saints because there is a very strong support network. The learners in the school are eager and enthusiastic to learn and their behaviour is impeccable.
The training and support provided by the school is excellent, you are well looked after by your mentor who is able to provide you with subject specialist knowledge and tips, and the schools staff are friendly and have many tips and advice to offer, helping you to become a reflective practitioner.
I was fortunate to be offered a job at Stepney All Saints as an NQT, so will be here for another year still!
I would highly recommend training at Stepney All Saints, as you will have the opportunity to develop subject knowledge and teaching skills in a high setting with experienced and talented mentors and members of staff. You will also be fully involved in the life of the department and school and will have several opportunities to participate in extra-curricular activities."


Sophie Lording, English Teacher and Head of Media Studies
"I was previously a producer at BBC and Hay Festival, and currently I am also a trustee for the Tuberous Sclerosis Assosiation.
I selected Stepney All Saints School based on its exceptional training record. The biggest strength of the Stepney All Saints programme is the support on offer through subject mentors, fellow trainees and Jane Barnes. I have completed my NQT year, and going forward I hope to become a lead practitioner.
I would recommend training to be an English teacher at Stepney All Saints. The importance they have placed on my professional development and the external training opportunities available have been invaluable."


Rubina Begum, Chemistry Teacher
"As a former student, I decided to do my PGCE placement at Stepney All Saints School. I was privileged to teach alongside some of the teachers who once taught me. This transformed me as a person and enabled me to pick up outstanding practice. I was provided with immense support by my mentor and my PCM (Professional Co-ordinating Mentor) which was very essential to my professional development. I have thoroughly enjoyed my placement at the school and completing my Stepney All Saints year. My relationship with the school is like that of a magnet and an iron nail."
Mariam Anjum – Mathematics Teacher
"I started working at Stepney All Saints as a Mathematics Academic Tutor, and felt myself becoming a part of a strong community of educators and making a noticeable difference to students. With the encouragement and support of my managers, I found myself applying for Teacher Training at SAS.
I felt privileged to be accepted on to the Training Programme in such an organised and supportive institute. The year flew by and I felt the development of my skills as a teacher as well as my personality. The school has been encouraging at every step and it is difficult to complete the year without firm confidence in yourself as a person and a professional. I am delighted to stay on at Stepney All Saints to complete my NQT year under the supervision and support of Mrs Barnes. The school have been encouraging in every aspect and you find yourself consistently aspiring to achieve your best. Observing outstanding teachers who have trained at Stepney All Saints is inspiring and it feels great to be a part of this experience community.
Stepney All Saints offers opportunities and a stable support system, which is essential when growing within a tough profession. I am very excited about continuing my development next year and hope to see many new faces joining us!"
Annabelle Huang, Business Teacher and BTEC Co-ordinator
"I had been working in Marketing/PR, Sales and Product Management sectors before I became involved in teaching Business Studies. I started Stepney All Saints School as an Academic Tutor; this led me into thinking about pursuing teaching as a career. I chose to stay at Stepney All Saints for my teacher training because the support that the school provides for trainee teachers is incredible. It is a very good training school with a very systematic way to help trainee teacher progress and reach our potential. I was very happy to be able to stay at Stepney All Saints for my NQT next year, and I am looking forward to it. I would willingly recommend Stepney All Saints to anyone who is interested in training to become a teacher."
What do some of the staff who have trained at Stepney All Saints in the past think about their training and the school?
Saeed Deen (Maths Teacher) and Khalida Deen (Second in charge of ICT)
"We have been at Stepney All Saints for almost fourteen years, and were really fortunate to have such an amazing beginning to our careers. We were given valuable feedback to help us develop into confident teachers and our mentor was always approachable, supportive and willing to help. There is a great family atmosphere amongst staff and students. We were so impressed with the teaching and learning as well as the values and respect for all faiths promoted at Stepney All Saints that we decided to have our own children educated at the school."
Mohammed Jahidur Rahman – Head of Economics
Trained 2013-2014.  NQT 2014-2015
"My dream of becoming a teacher was one that I knew would be challenging, but a journey that I always wanted to make. Studying at Stepney All Saints has really made that experience enjoyable, educational and with all the support and facilities in place, the transition from trainee to teacher was almost seamless. I started off with an aspiration and dream to become an outstanding teacher and practitioner, and at Stepney All Saints this has been made a reality. It really is a one of a kind school!"
David Corbishley – English Teacher, Subject Mentor and Key Stage 5 Co-ordinator (former student of the school) Trained 2012-13, Newly Qualified Teacher 2013-14
"Stepney All Saints has provided an excellent environment in which to train. The staff are welcoming and supportive and the facilities are excellent. Not to mention, the strength in depth of the English department; members of which have always been available for advice and support. I am now an English subject mentor, helping to train others to become teachers."
What do some of the 2015-16 cohort think about their training?


Towhid Hamid – English Teacher
"Training at Stepney All Saints has been a very fruitful experience. The English department is very well-resourced, welcoming and collaborative which has aided me in my professional development. I have thoroughly enjoyed teacher training sessions where I have developed myself as a teacher and received immense support. I really have felt valued here in the school and I've had the privilege of being trained by and working alongside a band of really passionate and creative teachers! I am sure that their talents really contribute to the reputation of the school as well as having influenced a lot of the good practice that I have adopted as an English teacher. I would highly recommend training at Stepney All Saints as the school has the ability to nurture outstanding teaching."
How do I Apply?
Select Stepney All Saints as a Lead School
Contact Jane Barnes, Senior School Professional Tutor on 020 7791 4965 or email jane.barnes@stepneyallsaints.school  if you would like to organise a preliminary visit or discussion. We welcome and encourage visits to the school prior to applications or interviews, to ensure that the potential applicants have a good feel for the school and can make informed decisions on training here. It is a great opportunity to meet departments, observe a few lessons, see the school day in action and talk to former trainees.
Please ensure that your referees are aware you are using them and try to chase them to ensure that your application goes through UCAS as soon as possible. The school does NOT receive any applications unless BOTH completed reference have been received.
The selection process will include the following:
~        A tour of the school
~        Time with the relevant departments
~        Time to prepare a lesson
~        Observation of a lesson taught to a group of students
~        Written tasks
~        Marking students work
~        Formal interview with Head of Department, School Professional Tutor and Head Teacher
~        Successful completion of skills tests
~        Formal interview with university of East London staff
Contact Us
For more information, any help or to arrange a visit, please contact Mrs Jane Barnes, Senior School Professional Tutor or one of the team (James Davis, Khalida Deen or Farzana Akther) on 020 7791 4965 or email jane.barnes@stepneyallsaints.school
Apply through School Direct, selecting Stepney All Saints CofE School & Sixth Form College as the Lead School.
Jane Barnes with the Trainee Teachers 2013/14 and NQTs 2014/15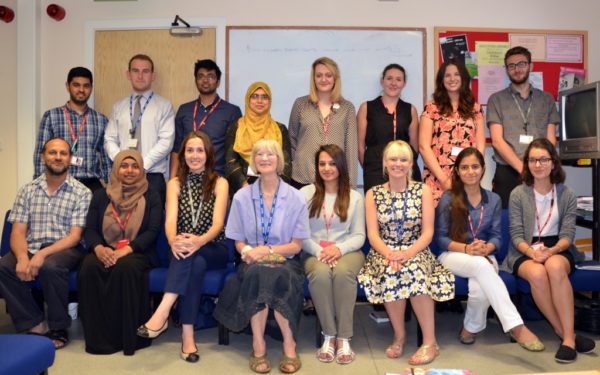 Peer Learning – Science experiment lesson taught by NQTs to trainees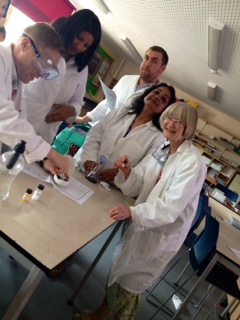 Professional Studies Sessions – These are fun!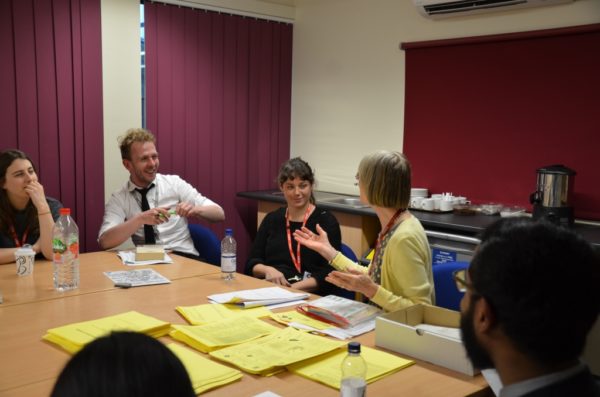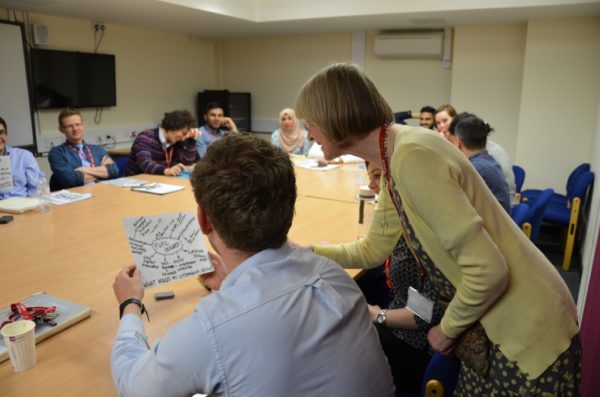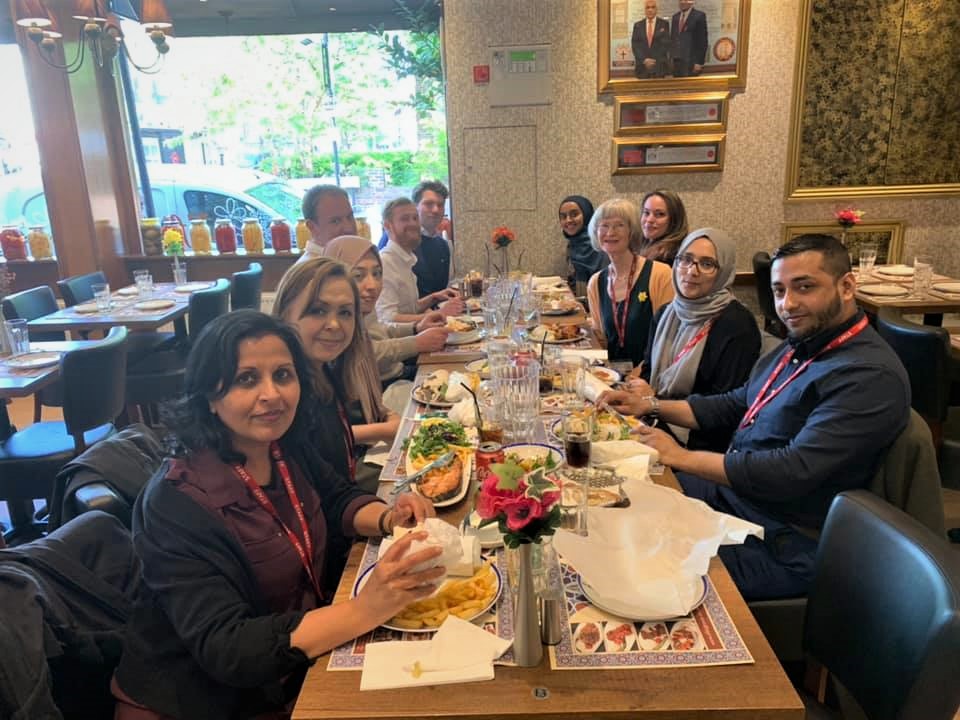 2018-19 trainee teachers enjoy themselves as well as working hard!
Thank You