Uniform
Uniform is an important part of a school's identity. It reinforces who we are as a community and helps allow students to feel pride in their school. It also ensures students are not put under any pressure because of the type of clothes they wear, and all are treated equally. It also helps prepare students for life after school where many will have to dress smartly for work.
We believe that our uniform is to be worn with pride and consequently we have high expectations. There is no room for personal interpretation as the list of acceptable items is clear.
All students must wear the full and correct uniform for school, school occasions and PE lessons. We will check the uniform of all students on the gate and at tutor time. Students who come to school dressed incorrectly may, if there is no adequate reason, be sent home to change or parents contacted to bring in the correct items. In addition, all items of uniform, especially blazers and coats should be labelled with the student's name.
It will remain the case for that students will attend school in their kit if they have a PE lesson that day. Full details on the kit are also on the website and expectations remain the same as for all other aspects of our uniform.
Uniform List
Uniform List
All items should be labelled clearly with the student's name.
Essential: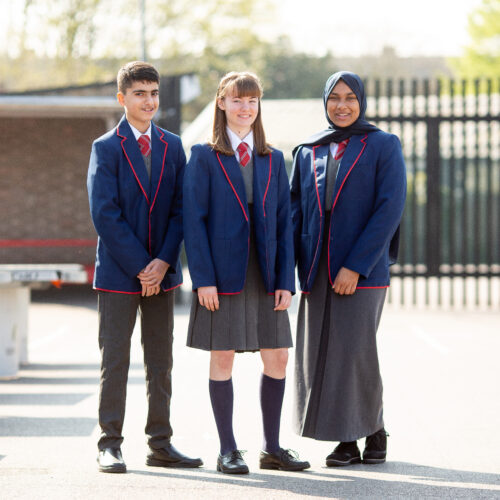 White collared shirt/blouse

Tie (in year colours). Ties should be worn to the correct length, showing at least 7 stripes. Ties will be supplied to all students at the start of year 7. There will be a charge for replacement ties.

Mid-grey uniform trousers OR Mid- grey pleated skirt knee length or longer) OR Mid- grey full length smart skirt

School Blazer (purchased from school)

Plain black or grey socks (with trousers) OR Knee or ankle length black or grey socks or black coloured seamless tights (with skirt)

NO jewellery, other than wrist watches

Head bands must be black or navy

School ID card on correct year group lanyard (there will be a fee of £5.00 for replacement ID cards)
Shoes:
Black smart shoes, NO trainers/trainer-shoes/boots or plimsolls
Optional:
Grey V-neck logo jumper (school logo or plain)

Coat – black/navy. Must be of an appropriate length to cover the blazer. NO hoodies or tracksuit tops

Headscarf (hijab) – navy
PE Kit: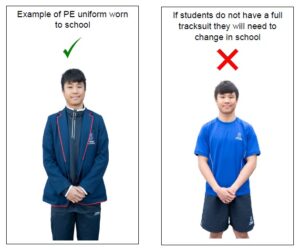 PE School Logo T-shirt in Royal Blue (purchased from school)

Navy School Logo Tracksuit Trousers (purchased from school)

OR

Navy School Logo PE shorts (purchased from school)

Royal blue football socks (may be purchased from school)

Sport Trainers

Shin pads (for football)
Swim Kit
Navy blue swimming shorts (NOT baggy surf shorts)

OR Navy blue 1-piece swimming suit OR Navy burkini suit – all swimwear must be appropriate lycra/elastin/nylon material

Swimming hat

Towel
Optional:
Makeup:
Students are not allowed to wear makeup to school. Students wearing makeup will be asked to remove it.
> Summary of PE Uniform and Expectations
All students must wear the full and correct uniform for school, school occasions and PE  lessons. Students who come to school dressed incorrectly may, if there is no adequate reason, be sent home to change. In addition, all items of uniform should also be labelled with the student's name.
Classroom/Learning Equipment
Every student is expected to provide the following basic items of equipment for every lesson:
School Bag

Black or blue ball point pen (and a spare!)

Pencil

Pencil Sharpener

Pencil Eraser

Coloured Pencils / Fine Fibre Tips

Ruler 12 inch or 30cm

Basic Scientific Calculator

Pair of Compasses

Protractor (Angle Indicator)

Rough Notebook / Jotter Set Square

Textbooks and specialised equipment may be issued on loan and students will be required to pay for any loss or damage to school property.
Sixth Form Uniform
To view a copy of the sixth form uniform, click here
[accordion]
Purchasing Uniform, Size Guides and Exchange Policy
Purchasing Uniform
All uniform must be purchased via Parentpay.
Size Guide and Exchanges
Please use the measuring guide below to identify the best fit of uniform for your child when placing the order.
Should your uniform item arrive and be incorrect in size, we will offer an exchange within 14 days of you receiving your uniform items, provided the items are returned in a good condition with all labels attached.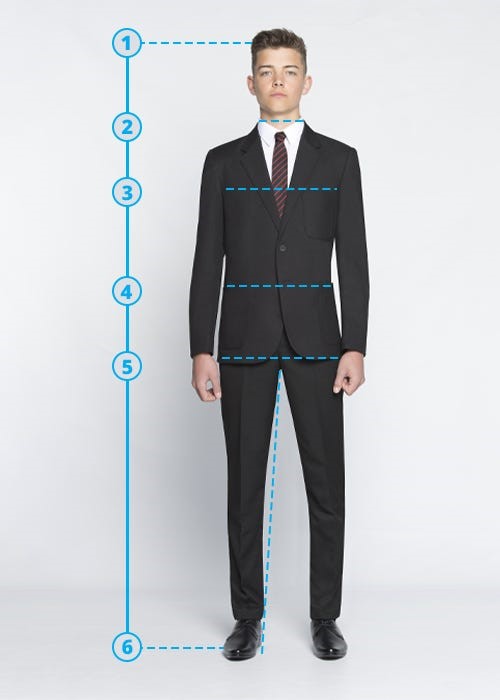 Height – This is best done barefoot, with feet together flat on the ground and back against a wall; measure from the top of the head to the ground.
Neck – Place the tape measure where the shirt collar would normally sit around the base of the neck. Leaving a little extra room is very important so that the collar is comfortable, so make sure not to pull too tightly.
Chest – Take the tape measure through the underarms, around the fullest part of the chest.
Waist – Measure around the natural waistline, not pulling too tightly to ensure comfort.
Hips – Standing straight with the heels together, take the tape measure around the fullest part of the bottom.
Inside leg – This time shoes on; measure from the inside leg to where the trouser is normally worn on the shoe. If you're unsure, trousers should sit approximately 5cm from the ground.
Click here to view Uniform Return Policy
Uniform Costs
Please see the full price list below.
| | |
| --- | --- |
| Item | Price |
| Blazer | £29.99 |
| Jumper | £21.25 |
| PE T-Shirt | £15.59 |
| PE Shorts | £14.75 |
| PE Socks | £4.40 |
| Tracksuit Top | £21.35 |
| Tracksuit Bottom | £18.99 |
| Replacement Tie (students receive their first tie in Year 7 free of charge) | £5.99 |
For further information or support with purchase of uniform, please email uniform@stepneyallsaints.school
Uniform Policy
The Uniform Policy can be found here