Safeguarding Information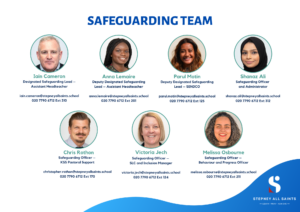 Stepney All Saints School's Safeguarding Information Booklet
> Click here to view the schools Safeguarding Information Booklet for Parents and Carers

> Click here for the Safeguarding Leaflet

> Click here for the year 6 parents induction presentation on safeguarding

> Click here for the parents year 6 induction presentation – Young Carers
FAST: Families Against Stress and Trauma
We are showing our support for "families against stress and trauma" which helps the families of those who've been killed abroad in terrorist related activity – https://www.youtube.com/watch?v=rhggmsZmoPY&feature=youtu.be
The "choking game" – Important safeguarding update for parents
A 12-year-old boy died last week in Birmingham after reportedly playing a "choking game" made popular on social media. The aim of the game is to cut off the flow of blood to the brain to induce a 'high'. Some strangle themselves with a belt, a rope or their bare hands; others push on their chest or hyperventilate.
This dangerous activity is also known as Blackout, Fainting Game, Dream Game, Passout or Gasp. Some also call it "the good boys' game" or "the good kids' high" as it is seen as a safe alternative to drugs and alcohol.
What are the warning signs?
Any suspicious mark on the side of the neck, sometimes hidden by a turtleneck, scarf or permanently turned-up collar.

Changes in personality, such as overtly aggressive or agitated.

Any kind of strap, rope or belt lying around near the child for no clear reason—and attempts to elude questions about such objects.

Headaches (sometimes excruciatingly bad ones), loss of concentration, flushed face.

Bloodshot eyes or any other noticeable signs of eye stress.

A thud in the bedroom or against a wall—meaning a fall in cases of solitary practice.

Any questions about the effects, sensations or dangers of strangulation.
Please be aware of this dangerous trend and look out for any of the possible warning signs mentioned.
Laughing Gas – Advice for Parents
Laughing gas has become a popular 'high' for many children and young adults. Find out more about this by reading the information on the links below.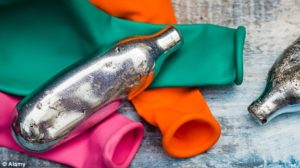 http://www.talktofrank.com/drug/nitrous-oxide
http://www.druginfo.adf.org.au/drug-facts/nitrous-oxide
https://www.youtube.com/watch?v=VVhF9wxd1Ao
Educate Against Hate
This website was jointly developed by the Department for Education and the Home Office. It gives parents, teachers and school leaders practical advice on protecting children from extremism and radicalism.
>>Click here to be directed to the Educate Against Hate Website
Safeguarding Radicalisation & Extremism Information for Parents
> Please click here to read information from the London Borough of Tower Hamlets regarding keeping children and young people safe against radicalisation and extremism
Let's Talk About It: https://www.ltai.info/

Counter Terrorism Police have produced some guidance to parents relating to the specific online radicalisation risk. This can be found on Let's Talk About It under hints and tips
Female Genital Mutilation
6th February marks the International Day of Zero Tolerance of FGM (Female Genital Mutilation).
>> Please click here to read information about FGM from Tower Hamlets council
Online Safety
>> Please click here to be re-directed to our page with e-safety information for parents
Families Against Stress & Trauma
>> Click here to read information from the families matter website, with advice for parents regarding helping children turn away from extremisim
Jan Trust
The organisation was formed to support and provide services to marginalised and hard to reach communities, enabling them to become an integral part of society through our support.
>> Click here to be directed to the Jan Trust website
Open Your Eyes
This website shares first hand accounts of young British muslims who have experienced life in ISIS.
>> Click here to be directed to the Open Your Eyes website
LGfL Counter Extremism Advice
LGfL has worked with leading extremism experts specialising in ISIS and the far right to provide information, insights and advice.
>> Click here to be directed to the Counter-Extremism website

Early Help
Right Help, Right Time: Support for children, young people and their families
> Early Help Information Leaflet
Tower Hamlets Education Wellbeing Service (T.H.E.W.S) Newsletter