Examination Information
This section of the website shares information related to exams and assessments.
The Summer 2022 GCSE and A Level Examination timetable can be viewed here – SASS Summer 2022 – Final Exam Timetable
Year 10 Mock Examinations - June 2022
Year 7 Mock Examinations - March 2022
Year 8 Mock Examinations - March 2022
Year 11 Mock Examinations - February 2022
Year 9 Mock Examinations - January 2022
Year 13 Mock Examinations - January 2022
Teacher Assessed Grades 2021
Teacher assessed grades 2021.
This simple infographic provides a helpful overview of this year's arrangements.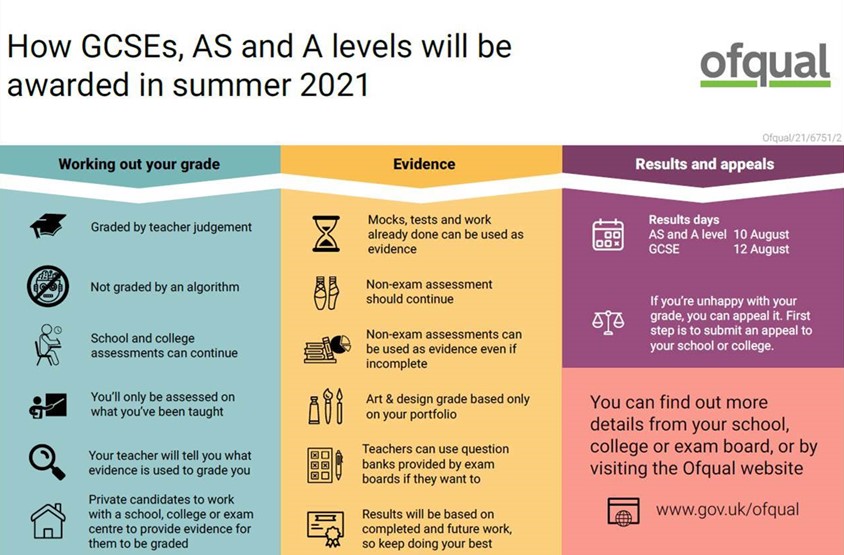 Questions and answers
Who decides what grade my child gets?
Individual schools are responsible for awarding grades this year. There is no algorithm.
Although the grades are called Teacher Assessed Grades, all schools are expected to have rigorous quality assurance procedures in place to make sure the grades are as fair and as accurate as possible. Hence, teachers' judgements will undergo careful scrutiny before students' grades are submitted. The school's headteacher is required to sign a declaration confirming that all the requirements set by the exam boards have been met.
How do I know the teachers will treat my child fairly?
Individual teachers do not decide students' grades. Though they clearly play an important part in the process, the decisions, ultimately, have to be signed off by the school's headteacher. Headteachers are responsible for ensuring that the grades are fair and accurately reflect each students' attainment.
There are also external quality assurance mechanisms in place – such as checks by the exam boards – to ensure the process is fair.
How can the school know how well my child would have done without all of the disruption that has happened?
Schools are not allowed – or even able – to make judgements based on their views of how a child might have done if it wasn't for the pandemic. Instead, their judgements will be based on a range of evidence of students' attainment, reflected in work they have completed independently and in assessments and tests.
The DfE have made clear too that students will only be assessed on content they have actually been taught. This means that students will not be penalised where their schools have covered less content because of Covid disruptions.
What evidence do schools have to use to determine my child's grades?
It is for schools to decide, though they have been given guidance by the DfE to ensure that students in different schools and taking different subjects are treated as fairly as possible.
The DfE have recommended that, where available, the following range of evidence is used:
Assessments, including past-papers, practice and sample exam papers and some of the materials produced by exam boards this year specifically to support teacher assessed grades.
Other work (called non-exam assessment or NEA, often referred to as coursework, even if this has not been fully completed
Exam papers designed by the school as long as they follow the format of the exam board exams and have been marked in line with exam board mark schemes.
Substantial class or homework (including those that took place during remote learning – though schools have to be certain that any work done at home has been completed independently by the student)
Mock exams taken over the course of study.
Records of a student's capability and performance over the course of study in performance-based subjects such as music, drama and PE
Records of each student's progress and performance over the course of study
Can work completed at home count towards the grades?
Yes, but the guidance is that this should only be included if the work cannot be done in school due to Covid restrictions and where the school can be absolutely certain that the work is the student's own work.
So, will schools all be using the same evidence and exam materials as each other?
Not exactly. It is for individual schools to decide what evidence they will use, within the guidance provided by the DfE. Exam boards will review each school's approach before confirming the final grades.
Aren't the exam boards producing exam papers for schools to use?
Yes, the exam boards are producing exam-style questions – together with mark schemes – that schools can choose to use if they wish to. It is not compulsory for schools to use these materials, however.
How can I be certain that all schools will judge students in the same way when they're not using the same exam materials?
Firstly, it is important to remember that even in normal times schools use different exam boards who set different test papers to each other.
This year, exam boards will issue grade descriptors and example answers to help teachers make sure their assessments are fair and consistent. These will be broadly comparable to performance standards from previous years, so teachers and students are clear what is expected for each grade.
Again, remember, that the exam boards will review each school's internal processes before confirming the grades awarded.
Who is going to be making checks on schools?
The exam boards have set out expectations of how schools should check their grades to make sure they are fair and accurate. Each school's approach will be reviewed by the exam boards before the grades are submitted.
Some schools will also receive more detailed checks though nobody knows which will be selected. Schools are more likely to be checked if the grades they submit are significantly different from the grades their students have achieved in previous years. This doesn't mean that grades can't improve, but that if there is a sudden and dramatic improvement (across the whole year groups), then additional checks are more likely to be made.
Why won't my child's teacher tell us what grade they have awarded?
They are not allowed to.
Teachers will not know the final grade awarded because the grades will be subject to whole-school standardisation and moderation processes. Put simply, the grades will undergo forensic reviews in each school which means that the teacher is not in a position to tell a student their grade. Even at the end of the process, the grades will only be confirmed once the exam boards are satisfied that the school's processes are robust.
How will we know which pieces of work will count towards the final grade?
The school should make clear to students which evidence has been used to determine their grade.
My child has special educational needs and would normally get extra time in exams. What's happening this year?
Schools are expected to have regard for the impact of any access arrangements on a students' attainment in assessments which will contribute to the teacher assessed grades.
How can I persuade the school to award my child a higher grade?
Parents should not do this.
Any pressure from parents on a school to increase a student's grade is likely to be regarded as exam malpractice. This was the case in 2020. If students or parents are found to be putting teachers or leaders under undue pressure to increase grades, then this matter will be referred to the exam boards and an investigation into malpractice may ensue. This may result in the student's certificate being removed entirely if malpractice is deemed to have taken place.
What about other qualifications such as BTECs, Cambridge Nationals or other vocational qualifications.
Students studying vocational and technical qualifications (VTQs) that are similar to, and taken alongside, or instead of, GCSEs and A levels will also receive grades assessed by teachers rather than sitting exams. The arrangements will be similar to those for GCSEs and A levels. This will be the case, for example, for many BTECs, Cambridge Nationals and Technicals, Tech Levels, Technical Awards and Technical Certificates. These arrangements will also apply to T Level core assessments.
When will schools submit their grades to the exam boards?
Schools have until 18 June to submit their grades to the exam boards.
When will the results be shared with students?
Students will receive their results for A/AS levels on the 10 August and GCSEs on the 12 August.
Results for relevant vocational technical qualifications (VTQs) that are linked to progression to further or higher education, including some BTECs, will also be issued to students on or before these dates.
Will we be able to appeal?
Yes. Every student will have the right to appeal their grade if they so wish. Students will be able to appeal directly to their school.
If a student does appeal, schools will carry out an initial review to check all processes were followed correctly and no errors were made. If the school or college finds an error, they can submit a revised grade to the exam board.
If the student still wants to appeal, they will ask their school or college to submit a formal appeal to the exam board for them. The exam board will check the school followed its own processes and exam board requirements as well as reviewing the evidence used to form their judgement and providing a view as to whether the grade awarded was a reasonable exercise of academic judgement.
If the exam board finds the grade is not reasonable, they will determine the alternative grade and inform the centre.
Appeals are not likely to lead to adjustments in grades where the original grade is a reasonable exercise of academic judgement supported by the evidence. Grades can go up or down as the result of an appeal.
Further information
Teacher assessed grades for students – GOV.UK (www.gov.uk)
Consultation on how GCSE, AS and A level grades should be awarded in summer 2021 – GOV.UK (www.gov.uk)
Summer 2021 Qualification Explainer Tool (ofqual.gov.uk)
Information for heads of centre, heads of department and teachers on the submission of teacher assessed grades: summer 2021 (publishing.service.gov.uk)
Year 12 Examinations
Year 8 Examinations
Year 7 Examinations
AUTUMN EXAMINATIONS
Students who are dissatisfied with their grade or wish to improve their grades will have the chance to
undertake written examinations in the Autumn term. This will be sat under normal exam conditions.
A Level exams will take place in October and GCSE Exams will take place in November/December.
Please visit the Exam board websites to view timetables.
AQA: https://www.aqa.org.uk/exams-administration/dates-and-timetables
Pearson: https://qualifications.pearson.com/en/support/support-topics/exams/exam-timetables.html
OCR: https://www.ocr.org.uk/administration/general-qualifications/preparation/key-dates-andtimetables/
Eduqas: https://www.eduqas.co.uk/home/administration/key-dates-and-timetables/#tab_0
If you wish to be entered for examinations in the Autumn term then please complete the form below
and return to exams@stepneyallsaints.school
The deadline for A Level students was Friday 3rd September.
GCSE students must return the form by Friday 24th September.
Autumn Exam Entry Form:Click here to download the Exam Entry Form. This must be submitted with a physical signature