Christmas Carol at the Old Vic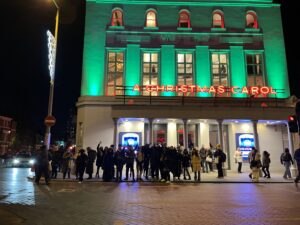 Stepney All Saints Drama students went to see A Christmas Carol at the Old Vic theatre on the 8th December 2022.
This heart-warming production excels at creating an atmosphere – from the moment you enter the Old Vic for A Christmas Carol there's enough festivity to blast away all the bah-humbugs. Cheery-faced carol-singers hand out mince pies and satsumas beneath a constellation of glowing orange lanterns, as the in-the-round production invites audience members into a gothic yet gleeful Dickensian winter.
The play is being studied by Year 10 and 11 GCSE Drama and English students, and their reaction was sheer joy at being able to join in with the preparations for Scrooge's Christmas dinner.
Ariful a Year 11 GCSE Drama student said "The lighting design was incredible, the lanterns flickering every time a  spirits appeared and the larger lantern circle in the auditorium to warn Scrooge that time was running out."
Tia, Year 10 GCSE Drama said "It was emotional, it taught me that anyone can change for the better."
This was followed the next day by a  fantastic workshop from the Old Vic  theatre practitioners on the importance of sound design, which will support students in their written GCSE drama Exam- lets hope a sound design question comes up in the exam!