Tower Hamlets – Families Matter Spring Term 2023
Families Matter Ebulletin (February 2023): Spring Term Families Matter Magazine, International Women's Day Celebration and other workshops and events for parents, children and young people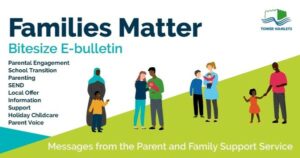 Each month, the Tower Hamlets Parent and Family Support Service, share information, advice and opportunities for you to join their networks, support groups and parenting sessions. Click on the link below to find out how you can connect with other parents and carers, participate in family activities, share your experiences and learn together.
Click here to read the February 2023 e-bulletin.
Families Matter Magazine (Spring Term 2023)
Please find attached the Families Matter Spring Term magazine with news and information to support families.

This term's edition includes information on volunteering opportunities and other workshops being delivered to support parents, carers, foster carers and special guardians across the borough. The magazine also features the Let's Talk SEND Spring Term supplement.
TH Families Matter SPRING 2023
TH Let's Talk SEND Newsletter SPRING 2023
An online version is on the Local Offer website here.

Previous editions of both the Families Matter termly magazine and the monthly ebulletin can also be found at www.towerhamlets.gov.uk/familiesmatter.
For more information, email parentalengagement@towerhamlets.gov.uk.