Samosa Media Workshops at Stepney All Saints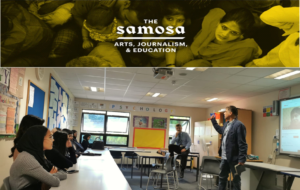 Samosa Media provide a series of arts and media workshops for sixth form students at Stepney All Saints School.
From September to January, Samosa Media's education officer Natalie Marshall and director Anwar Akhtar delivered a series of seven workshops for a group of twelve sixth formers, studying for their BTEC at Stepney All Saints school.  
The workshops provided a platform for students to explore and develop their understanding of topics including identity, faith, politics, business, arts and culture. They also did exercises on public speaking and leadership challenges.
Students were asked what they wanted to do for a career, with many saying they wanted to start their own business. Anwar discussed with the group the importance of knowing about the UK's history, its many cities, communities and cultures, and how understanding communities is part of understanding markets and can help young entrepreneurs launch successful businesses.
The students also explored leadership in business, culture and politics, and how skills such as patience, the ability to listen, observe, study and work hard help people succeed in business as well as other sectors.
During the workshops, Anwar was able to provide knowledge from his career as the director who led the building of the Rich Mix cultural centre and his work as a film and theatre producer, DJ and music promoter. He emphasised that having a working class Muslim background does not prevent people from succeeding in the UK.
A major part of the workshops focused on developing students' confidence, self-esteem and public speaking. Teachers had said that some students were confident within their peer groups, but were unable to confidently speak in front of their class. This was seen in our workshops. Natalie and Anwar focused on activities to help students debate more confidently and provided examples of public speaking and confidence, featuring prominent BAME figures and young people such as Diane Abbott, Sayeeda Warsi, Greta Thunberg, Malala Yousafzai, Mehdi Hasan and Mishal Husain.
Students who participated in these workshops said the following:
"The workshops have increased my confidence with public speaking and understanding myself better. I have learned the importance of socio-economic factors."
"It was inspiring to see people from the BAME community who have a similar upbringing to us highlight how it is possible to be successful."
"I particularly enjoyed the debate on young children wearing a hijab. The workshops showed me that culture has a lot of meaning and representation in the UK which I did not realise till now."
"The workshops let me know that no matter where we grew up, we can also aspire to have successful careers."
"I learned that the real world is hard, and that confidence is key."
"I found the public speaking and confidence workshops useful because Michelle Obama's speech was admirable."
"I enjoyed the activities which helped me to understand the importance of knowledge which can lead you to thrive in business."
"The workshops helped remind me how important it is to be proud of your identity, race, and being working class."
Students explored important but overlooked historical figures such as Princess Sophia Duleep Singh, a prominent UK suffragette who campaigned for votes for women.
Students discussed the importance of having confidence and belief in yourself. Pride in community and heritage can be platforms for young people to succeed. The workshops discussed how BAME artists, politicians and journalists were proud of their identities. Each workshop started with examples of excellence in the arts, from music to theatre and dance.
The workshops were created to encourage students, regardless of their backgrounds, to pursue their ambitions through hard work and education so they can succeed in whatever field they want to be in. The workshops also emphasised how the arts provide platforms for multiple cultural voices, stories and careers and can also help integration.
The workshops highlighted prominent BAME artists such as Nitin Sawhney and explored themes such as American history through the music of Aretha Franklin.
Students also discussed if they could see themselves attending concerts at grand venues such as the Royal Festival Hall. Through this, students began to explore cultural capital, and could begin to see they can explore culture and events outside their borough or local community. The workshop highlighted the positive impact the arts have in building young people's confidence by opening minds through creativity and exploring performance and productions. These skills help confidence and communication and are just as positive for business as they are for the arts.
Pastoral supervisor Christopher Rothon said:
"Our good friends at Samosa Media have worked with Stepney All Saints School for a number of years, delivering thought provoking educational workshops across KS3, KS4 and KS5. The winter 2022 workshops were aimed at students aged 15-17, who are currently on the BTEC Level 3 Vocational Pathway. The aim of this workshop was to improve cultural capital and understanding of socio-economic issues affecting young Londoners today, whilst developing their public speaking, sense of identity and self-esteem. I would like to thank Anwar and Natalie for delivering another fantastic workshop series."
These workshops at Stepney All Saints School have been supported by The Portal Trust and The Foundation for Future London, as part of a series of extracurricular educational programmes run by Samosa Media  with a focus on bilingual pedagogy and communication in working class communities. Further programmes of workshops by Samosa Media at Stepney All Saints School are now planned for later in 2023. For more information please contact info@thesamosa.org.uk or christopher.rothon@stepneyallsaints.school